Joey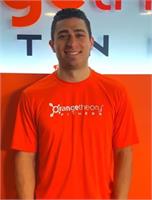 Joey is an ACE certified personal trainer and has his TRX certification. Joey graduated from Ithaca College where he studied health and nutrition as well as played baseball. When Joey wasn't studying or playing baseball, he volunteered his time to helping the elderly community through a wellness program. If you haven't had the opportunity yet, be sure to make it into one of Coach Joey's classes!
"I've been coaching/training for a couple of years now. I've worked in various gyms and working out is my passion. I love training, helping and meeting people everyday. Rowing is one of my favorites things to do in the gym even though it doesn't like me too much! If you see me coaching or just working out be sure to say hi! I am always interested in hearing about any new movies or tv shows you have seen"
What do you burn for?
I burn so I can stay healthy and happy.
What is your guilty pleasure?
My guilty pleasure is being lazy and watching tv and movies.
What is your favorite OTF exercise?
Single arm snatch.
Joey instructs the following:
60 Minute Orange Theory Workout